Last Updated on May 8, 2022 by Stone
Zhùr means wolf in the language of the Tr'ondëk Hwëch'in people. The frozen specimen was found in their ancestral land in Canada's Yukon territory so the pup was nicknamed Zhùr. Because of the age of the remains some people have questioned – Was the recently found frozen wolf a dire wolf? Read on to what is known about this little one.
Was the Recently Found 57,000-year-old Frozen Wolf in Canada's Arctic a Dire Wolf?
No, it wasn't a dire wolf. The pup, who researchers named Zhùr, was a 7 week old recently weaned wolf pup that had been feeding on fish and aquatic animals. It was related to wolves that have been found in Alaska and Eurasia but not genetically close to modern Yukon Gray Wolves. Dire wolves are thought to not even have been wolves at all and perhaps should be thought of as more like large foxes. They certainly didn't look like Jon Snow's Dire Wolf, Ghost.
Where was the 57,000 year old wolf found?
It was 2016 and Neil Loveless was excavating a wall of permafrost with a water cannon, looking for something precious. He didn't find any riches but he did unearth the most complete and the oldest mummified wolf that was ever discovered. The discovery was made in Canada's Yukon territory. Luckily for science, he had the presence of mind to place his finding in a freezer until it could be properly examined by experts.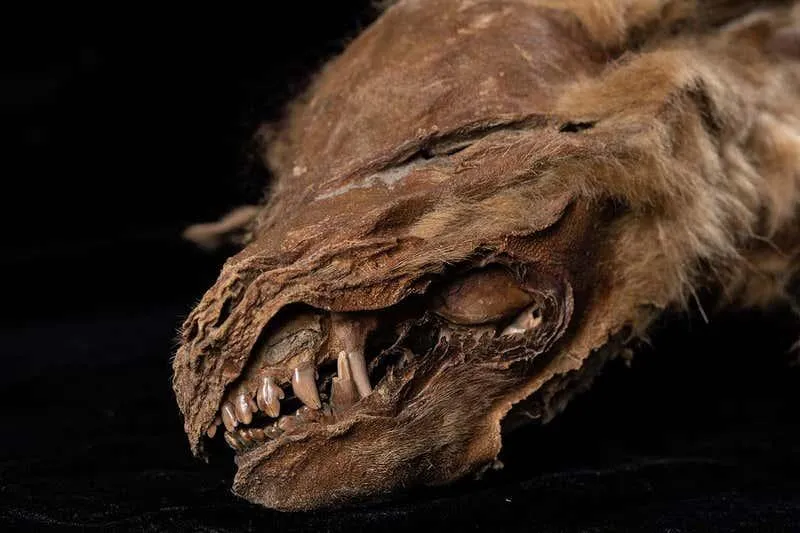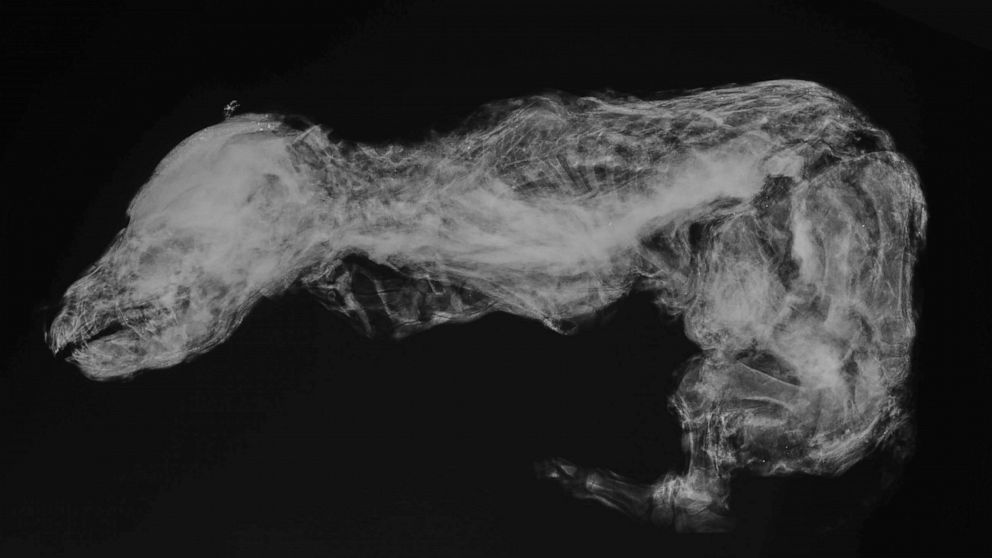 The wolf was from an era (the Pleistocene epoch) when American Mastodons roamed Canada. A Mastodon was the predecessor to the Wooly Mammoth and was a little smaller. The two briefly existed at the same time before the Mastadon became extinct. This period of time was from 2.6 million to approximately 11,700 years ago.
While there have been exciting finds in the Siberian Tundra, a find like this in the Yukon territory has never happened before.
57,000 years ago was still in the middle of the ice age, but there were times throughout this epoch in which artic glaciers retreated–this was one of those times. During this warmer period, forests flourished and wolves would have shared the landscape with mastodons, camels (camels originated in North America 40 million years ago and went extinct 13,000 years ago), and giant beavers (which were as big as black bears).
The puppy was only about 7 weeks old at a time when it had just been weaned from her mother's milk.  She is thought to have died from a den collapse. This wolf had genetics in common with gray wolves found in Alaska and Eurasia but not the Yukon. It suggests that this ancient species of wolf went extinct in the Yukon and that this Canadian territory was later repopulated with populations from the south.
What do we Know about Zhùr?
Zhùr was a female based on x-rays taken. She was around 6-7 weeks old and just recently weaned. In her short life, she ate mostly fish and aquatic animals. This was based on the geochemical signatures on her teeth. Because her body was in good shape, she did not die of starvation. Researchers think the den she was in possibly collapsed, trapping her in the sandy earth. Genetics show that Zhùr was descended from ancient wolves that originated in Siberia, Russia, and Alaska.
Ice age wolves are only distantly related to modern-day wolves. Climate change and thawing permafrost and melting ice are likely to reveal more preserved specimens as time goes on and we should get a better picture of the evolutionary journey.
Dire Wolf – More like a Mega Fox
Zhùr was not a dire wolf. Dire wolves also looked nothing like "Ghost" from Game of Thrones. According to Popular Science, a Dire Wolf was more like a mega-fox or a giant Shiba Inu than a wolf. Remains of dire wolves have been found with frequency in the La Brea Tar Pits (now Los Angeles) The tar pits are home to many animals that have fallen into an asphalt-filled grave and the DNA samples have been too contaminated and mixed up to do much with.
Relatively intact Dire Wolves found in the tar pits looked physically so similar to a wolf that it was assumed they were a wolf. A paleontological case of if it looks like a duck and acts like a duck, it's a duck. In this case, that logic failed.
After scouring the continent for non-disrupted specimens, Angela Perri, a researcher at Durham University only had 5 usable samples. What they found was that wolves and Dire Wolves diverged from a common ancestor around 6 million years ago. Dire wolves are so different genetically that they could not interbred with wolves or coyotes. If they could they may have survived whatever it was that challenged their species and led to their extinction 12-13,000 years ago. They were the last of their kind. There are no canids roaming around today that are part dire-wolf.
What does this mean for our Understanding of Wolf Evolution?
There is still a lot that isn't known about how wolves evolved and came to North America. It seems that different species of wolf evolved separately and then became extinct and the lands they previously inhabited were then repopulated with other wolves that evolved elsewhere. The Ice Age was an extremely long time compared to modern humans who have only been around for 200,000 with civilization as we know it only being around for about 6000 years. As we were on our evolutionary journey from ancient primates, wolves were evolving from ancient Miacids.
Final thoughts
A find like Zhur adds so much detail to the evolutionary picture of wolves. With each find like this, there are many new questions generated. It is truly amazing how with DNA technology and chemical analysis that we can determine with certainty information that would be hidden from us if we were less technologically advanced. As time goes on and science and computer modeling improve we will likely uncover more information we are currently blinded from.
How you can help Wolves.
Wolves are in trouble in most places they are found.
On a national level, you could write to The Environmental Protection Agency (EPA).
You could donate to groups like the WWF or Defenders of Wildlife who stand up for animals like the Gray wolf. If you live in Canada, you could consider a gift to Exposed Wildlife Conservancy. In British Columbia you can also check out Pacific Wild.
Consider Donating to Save an Imperiled Animal.
---
This Blog Runs on Wealthy Affiliate
Wealthy Affiliate's premium plan lets you launch up to 10 premium websites. They teach you how to make money online. It is not about getting rich quickly; you will have to work. They offer:
Training Certification Core Training Level 1-5 (50 lessons)
Bootcamp Core Training Level 1-7 (70 lessons)
1000+ Training Modules All Levels Core Training
and 52+ Expert Classes Per Year
You can get started for free and then decide if blogging is for you. No aggressive sales tactics and click funnels or annoying YouTube-like videos from super caffeinated Gurus yelling about how they are different from all the other gurus. The best part is access to the Wealthy Affiliate community. You ask a question and the community gives you an answer in no time. If you have a problem with your site, the included site support will set you straight.
Check it out. You'll never know if you don't try and it's free to try.
---